CAST
Kathleen Turner – Eileen Cleary
Screen icon Kathleen Turner has garnered critical acclaim for her performances in various movies including Body Heat, for which she was nominated for a Golden Globe; Romancing The Stone and Prizzi's Honor, which earned her a Golden Globe Award for each; Peggy Sue Got Married, which brought Turner both an Academy Award nomination and a Golden Globe nomination; and War of the Roses, and yet another Golden Globe nomination.
Turner's extensive film credits also include The Man with Two Brains, with Steve Martin; Jewel of the Nile, with Michael Douglas; The Accidental Tourist; V.I. Warshawski; John Waters' Serial Mom; Naked in New York; Moonlight and Valentino; The Real Blonde; and Sofia Coppola's The Virgin Suicides. Ms. Turner has also starred on Broadway in Cat On a Hot Tin Roof, for which she received a Tony nomination; Indiscretions; The Graduate; and Who's Afraid of Virginia Woolf, for which she received a second Tony nomination. Ms. Turner had a major recurring role last season playing the role of Sue Collini on Showtime's hit series, Californication.
In the spring of 2010 Ms. Turner starred as Molly Ivins in the world premiere of Red Hot Patriot: The Kick Ass Wit of Molly Ivins at Philadelphia Theater Center and immediately following that shot the starring role in an independent film called The Perfect Family. Ms. Turner most recently starred on Broadway in the world premiere of a play by Matthew Lombardo called HIGH. She can currently be seen in her one woman show, Red Hot Patriot: The Kick Ass Wit of Molly Ivins at The Geffen Theater in Los Angeles and immediately following that she will be going on the road through June performing HIGH in various cities all over the country.
In addition to her film and stage credits, Turner wrote of her many accomplishments and life experiences in her 2008 autobiography titled Send Yourself Roses: Thoughts on my Life, Love, and Leading Roles, which secured a position on the New York Times Best-Seller List.
---
Emily Deschanel – Shannon Cleary
An actress with talent and poise, Emily Deschanel has built an impressive list of credits throughout her career, challenging herself with each new role.
Deschanel stars on FOX's hit sci-fi procedural drama, Bones, opposite David Boreanaz which is currenlty in its 7th season. Executive produced by Barry Josephson (Hide and Seek, Ladykillers) and Hart Hanson (Joan of Arcadia, Judging Amy), the darkly amusing drama features Deschanel as 'Dr. Temperance Brennan,' a forensic anthropologist who writes novels as a sideline and has an uncanny ability to read clues left behind in a victim's bones. Consequently, law enforcement calls her in to assist with murder investigations when the remains are not able to be identified with standard methods.
Deschanel was recently seen in Anne Renton's independent comedy, THE PERFECT FAMILY, where she starred opposite Kathleen Turner and Jason Ritter. The film revolves around Eileen, a devout Catholic wife and mother (Turner), who has been nominated for one of the church's top awards and is continually proving to everyone that she has the "perfect" family, in turn refusing to accept them for who they really are. As Eileen's daughter, Deschanel's character is a successful lawyer who struggles with telling her religious mother she is pregnant and in a loving committed relationship with another woman, knowing that her revelation will shatter her mother's carefully crafted image of their perfect Catholic family.
Deschanel starred in Nick Cassavetes' My Sister's Keeper. She can also be seen in Jerry Bruckheimer's Glory Road opposite Josh Lucas, Derek Luke and Jon Voight. Directed by James Gartner, Glory Road tells the story of the 1966 Texas Western University basketball team who make history as the first college basketball team to have an all black starting line-up and win the NCAA National Championship.
Additionally, Deschanel has amassed a number of credits including Anthony Minghella's Cold Mountain, John Lee Hancock's The Alamo, Sam Raimi's Spiderman 2, Stephen Kay's Boogeyman, and Jane Weinstock's Easy.
Deschanel's television credits include guest star appearances on Crossing Jordan, Providence, and Law and Order: SVU. In addition, she appeared in Stephen King's mini-series, Rose Red.
A member of the Interact Theatre Company, Deschanel's recent theatre credits include the roles of 'Emily' in Our Town and 'Natasha' in Three Sisters.
An animal rights activist, Deschanel is passionately involved with the Farm Sanctuary, working to end cruelty to farm animals and promoting compassionate living through rescue, education and advocacy. Deschanel is also involved with the Humane Society and Women for Women International.
Deschanel was born in Los Angeles and received her BFA in Theater from Boston University.
---
Jason Ritter – Frank, Jr.
Jason Ritter can currently be seen as Lauren Graham's love interest in a multi episode arc on NBC's critically acclaimed "Parenthood." "Parenthood" airs on Tuesday nights at 10:00PM. Concurrently, NBC has made a development deal for Ritter to partner with Jason Katims on a television pilot.
Jason Ritter starred on NBC's conspiracy thriller "The Event" opposite Blair Underwood and Laura Innes. On the show, he played Sean Walker, an unlikely hero who gets entangled in an immense government conspiracy when his would-be fiancée Leila (Sarah Roemer) mysteriously disappears during their Caribbean cruise.
At last year's South by Southwest Film Festival, Ritter debuted his most recent film "A Bag of Hammers" starring opposite Rebecca Hall. To be released in 2012, Ritter also stars in "The Perfect Family" opposite Emily Deschanel; which premiered at the 2011 Tribeca Film Festival. He also appears in "The End of Love" opposite Amanda Seyfried and Michael Cera which opened at Sundance Film Festival in January 2012.
Ritter recently starred in the independent film "The Dry Land," opposite America Ferrera, Ryan O'Nan, and Melissa Leo. The film premiered at the 2010 Sundance Film Festival and won the prize for international premiere at the 2010 Edinburgh Film Festival. He also starred in "Peter and Vandy" opposite Jess Weixler, which premiered at the 2009 Sundance Film Festival and was nominated for the Grand Jury Prize. Ritter starred in and co-produced "Good Dick," written and directed by Marianna Palka, which was nominated for the Grand Jury Prize at Sundance in 2008.
His other film credits include: "The Education of Charlie Banks," "Our Very Own," "Happy Endings," "Mumford," and "Raise Your Voice." Other television credits include series regular roles on "The Class" and "Joan of Arcadia."
Ritter starred as the title character in the Lincoln Center production of Wendy Wasserstein's "Third," opposite Dianne Wiest, Charles Durning, Amy Aquino, and Gaby Hoffmann, directed by Daniel Sullivan. His additional theater credits include the Off-Broadway production of Tom Donaghy's "The Beginning of August" and the role of 'Tim' in the world premiere of Neil LaBute's play "The Distance from Here" at London's Almeida Theatre, directed by David Leveaux.
Ritter is a graduate of New York University's Tisch School of the Arts, where he studied at the Atlantic Theatre Company. He also studied at the Royal Academy of Dramatic Arts in London.
---
Michael McGrady – Frank, Sr.
Michael McGrady is a familiar face from his numerous roles on television and in film. Michael currently stars as Detective Daniel "Sal" Salinger on the critically acclaimed Warner Bros. Produced, "Southland," and can also be seen as one of the main characters in Rockstar's soon to be released video game, Film Noir as Detective Galloway. He starred opposite Taye Diggs in the ABC series "Day Break," and has had recurring roles on "24," "The Riches," "CSI Miami," "CSI Las Vegas," and has enjoyed countless guest-star appearances on several popular television shows, including – "Prison Break," "Leverage," "The Mentalist," "Criminal Minds," "Without a Trace," "Big Love," "Grey's Anatomy," "Bones," and "Lie to Me," to name a few. Additionally, Michael has several film credits to his name, such as: THE BABE, starring as Lou Gehrig opposite John Goodman, as John Shanssey in Wyatt Earp, as Frank Mangrum in DIGGSTOWN opposite Lou Gossett Jr. and James Woods, and as Detective Jimmy Dougherty in DEEP END OF THE OCEAN with Michelle Pfeiffer, to name a few. Michael is a co-founder along with his wife Ilka of the Balanced Life Company, an international organization dedicated to helping people develop and maintain a more balanced and sustainable lifestyle. Michael is also an accomplished fine artist; his work is currently represented in several galleries across the country. He and his wife Ilka own and operate McGrady Fine Art. When not filming, he can most often be found outdoors sailing, playing sports, riding his Harley or soaring his Hang Glider above the mountains of beautiful Santa Barbara. It's all about lifestyle, health and balance for this self-described "Pescatarian" and cancer survivor.
---
Elizabeth Peña – Christina Reye
Elizabeth Peña is one of the most versatile actors working in Hollywood today. Switching from film to television with ease, Peña has always kept herself busy with one project after another, as she continues to receive critical acclaim in each role.
Peña's big screen debut performances include the role of Carmen in Paul Mazursky's DOWN AND OUT IN BEVERLY HILLS and the jilted "Rosie" in LA BAMBA. She then went on to star in BATTERIES NOT INCLUDED, and Adrian Lyne's JACOB'S LADDER opposite Academy Award winner Tim Robbins. She also co-starred in RUSH HOUR with Jackie Chan and Chris Tucker, THE WATERDANCE with Academy- Award winner Helen Hunt. Pena had award winning turns in John Sayle's drama LONE STAR, for which she received an Independent Spirit Award and a Bravo Award for Best Actress in a Film and she received an ALMA Award for "Outstanding Supporting Actress" for her role in TORTILLA SOUP. Stepping out of her traditional tough exterior, Elizabeth received rave reviews as an innocent schoolteacher in this American remake of Ang Lee's EAT DRINK MAN WOMAN.
Peña garnered rave reviews for her role in the critically acclaimed independent feature TRANSAMERICA. She also appeared in Andy Garcia's directorial debut THE LOST CITY.
More recently, Peña recently received recognition for her work in the feature
HOW THE GARCIA GIRLS SPENT THEIR SUMMER co-starring America Ferrera. She also starred opposite Alfred Molina and John Leguizamo in the feature NOTHING LIKE THE HOLIDAYS and the feature MOTHER AND CHILD, starring Annette Bening. In addition to THE PERFECT FAMILY, her most recent films include BECOMING EDUARDO.
On television, Elizabeth most recently appeared in a recurring role on Shonda Rhimes' ABC series OFF THE MAP. Peña starred in the Lifetime made for TV movie RACING FOR TIME, directed by Charles Dutton. She also garnered rave reviews for the CBS telefilm SUBURBAN MADNESS. For three seasons, Elizabeth starred in Showtime's award winning drama RESURRECTION BOULEVARD. She received the ALMA Award in 2001 for "Best Actress in a New Series" for her role as 'Bibi.'
Peña has a successful voiceover career as well. She can be heard in the cartoon THE MISADVENTURES OF MAYA AND MIGUEL on PBS. She also lent her voice as the seductive hero/villain 'Mirage' in Pixar's blockbuster hit THE INCREDIBLES.
Peña has demonstrated her ability to perform behind the camera when she directed an episode of RESURRECTION BOULEVARD. She followed with another directing stint on Nickelodeon's THE BROTHERS GARCIA. Peña joined the Director's Guild of America, becoming only the fourth Latina member of the union at that time.
---
Richard Chamberlain -  Monsignor Murphy
Richard Chamberlain became an overnight heartthrob with the 1961 title role in the medical series "Dr. Kildare," winning him is first Golden Globe Award for Best TV Star in 1963. In 1969 he became the first American actor to portray the role of Hamlet in a British production of the Shakespeare classic at Birmingham Repertory Company. The following year, he reprised the role for an unabridged televised production on Hallmark Hall of Fame. Most of his noteworthy and popular performances later followed with the television mini-series "Centennial" (1978: Golden Globe nominee for the role of "Alexander McKeag"); "Shogun" (1980: Golden Globe winner for the role of "John Blackthorne"); the legendary 1982 mini-series "The Thorn Birds" as the tormented Father Ralph de Bricassart (Golden Globe and Emmy nominee); and one of Chamberlain's most treasured roles, "John C. Fremont" in the 1986 CBS mini-series "Dream West" based on the life of the California maverick. On stage, he starred in the New York premiere of Joseph Papp's production
of Fathers & Sons playing Wild Bill Hickok, which he then recreated in Los Angeles to much acclaim. In 1993-1994 he starred as Henry Higgins in the smash hit Broadway revival of My Fair Lady which also toured throughout the U.S. and a second production which toured extensively throughout Europe. In 1997, Chamberlain starred in the Broadway revival of The Sound of Music, which also was followed by a U.S. tour. Other recent television credits include the BBC series "Hustle" as well as guest roles on "Will & Grace," Desperate Housewives," "Brothers & Sisters," "Nip/Tuck," "Chuck" and "Leverage." He also appeared in the Adam Sandler 2007 comedy I Now Pronounce You Chuck and Larry.
---
Angelique Cabral – Angela Reyes
Angelique Cabral was born in Honolulu and raised in Carmel Valley, CA. She attended Indiana University, Bloomington on the full academic scholarship, majoring in Musical Theater and French. Since graduating, Angelique worked extensively in television, film, theater, commercials and voiceovers in both in LA and NYC. Recent credits include feature film Friends with Benefits (starring Justin Timberlake and Mila Kunis) and guest starring roles on ABC's Happy Endings, CBS's Two and a Half Men, and NBC's Free Agents. Angelique just booked a series regular role on Marc Cherry's new primetime pilot Devious Maids, for ABC
---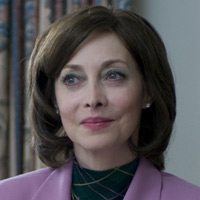 Sharon Lawrence -  Agnes Dunn
You may know her from her multiple EMMY nominated and SAG Award winning portrayal of ADA Sylvia Costas Sipowitz in the ground breaking NYPD Blue or as a stay-at-home prostitute in DESPERATE HOUSEWIVES, a murderous realtor on MONK or a sociopathic serial killer on LAW AND ORDER: SVU or beating Larry David up on CURB YOUR ENTHUSIASM. She has headlined her own comedy series FIRED UP produced by Kelsey Grammar for NBC and starred Alfred Molina, Betty White and Dixie Carter in CBS's sit com LADIES MAN.
Sharon received her fourth Emmy nomination for her work on GREY'S ANATOMY as Katherine Heigl's tender but ditzy mom. Other guest appearances include ONE TREE HILL and COMMUNITY, THE MENTALIST, GHOST WHISPERER, BOSTON LEGAL, DIRT and PRIVILEGED. She'll be returning for a fourth season of DROP DEAD DIVA and starring in RIZZOLI and ISLES this summer.
An accomplished stage actress, Sharon created the role of Maureen in the premier of Theresa Rebeck's Poor Behavior at the Mark Taper Forum and was recently nominated for an Ovation Award and won the LA Drama Critics Circle Award as Vivian Leigh in Pasadena Playhouse's Off Broadway hit Orson's Shadow. Her latest NY theatre credits include as Velma Kelly in Chicago on B'way and in Love, Loss And What I Wore
Film work includes 2012 Sundance Award wining MIDDLE OF NOWHERE by filmmaker Ava DuVernay (BEST DIRECTOR), THE PERFECT FAMILY, LIES AND ALIBIES, LITTLE BLACK BOOK, GOSSIP and THE ONLY THRILL with Diane Keaton, Sam Sheppard, and Diane Lane. Sharon has starred in many films for television and produced for NBC, FIVE DESPERATE HOURS co-starring Giancarlo Esposito. She earned her BA in Journalism from the University of North Carolina at Chapel Hill and has been honored with UNC-CH's Outstanding Young Alumni Award, the Prism, Method Fest, and Drama Logue Awards
Sharon recently chaired the Women In Film Foundation, and supports both Global Green and the National Breast Cancer Coalition. She lives in Los Angeles and is married to physician Dr. Thomas Apostle and is a contributor to LIVE AND LET LOVE, notes from Extraordinary Women On the Layers, Laughter and Litter of Love.
---
Shannon Cochran – Mary Donovan

Shannon Cochran is an actress and director based in Chicago and Los Angeles. She recently completed the first national tour of August: Osage County, for which she received a Chicago Theatre Award and Helen Hayes nomination. She is an Obie and Theatre World award winner and Drama Desk nominee for her creation of the lead role in Bug, which she originated at London's Gate Theatre. Her film credits include The Ring, Star Trek: Nemesis, The Babe, Flowers and Weeds, and The Substance of Things Hoped For. She currently plays Attorney General SusanThorne on the upcoming ABC series, "Scandal". Her many television appearances include recurring roles on "NYPD Blue", "Star Trek (The Next Generation and Deep Space Nine)", recent guest stars on "Grey's Anatomy", "Fringe", "The Office", "Desperate Housewives", "Law and Order: SVU", "Numbers", and "Fringe", and dozens of commercials and voice-overs. She is a Chicago theatre veteran, and has enjoyed a 20 year association with Steppenwolf Theatre Company. She has worked at regional theatres across the country, as well as Canada and Great Britain. She recently directed the first national tour of Los Angeles TheatreWorks' The Rivalry, a stage/radio theatre hybrid, and also can be heard on many audiobooks, including Fallen, for which she received a Golden Earphone Award, and the recently released The Unremarkable Heart and Other Stories. She is currently in Chicago appearing at Writers' Theatre in A Little Night Music and Hamlet.
---
Scott Michael Campbell – Father Joe
Scott Michael Campbell began his film career early on when he was handpicked by George Lucas to star in RADIOLAND MURDERS. Shortly after he went to work on Warren Beatty's BULWORTH with Halle Berry, and then onto the World War II feature, HART'S WAR with Bruce Willis and Colin Farrell, and Rick Ravanello. He continued his growing film career working opposite Dennis Quaid and Hugh Laurie in Twentieth Century Fox's FLIGHT OF THE PHOENIX. He continues to work in a multitude ofhighprofile and award winning independent features such as 'Brokeback Mountain', and 'Push', along with numerous others. Scott has consistently worked in television on practically every high profile series over the last two decades. Some of which include: 'E.R.', 'The West Wing', 'Crossing Jordan', 'Frasier', '24', 'Boston Legal', 'House', 'Grey's Anatomy', 'CSI', 'NCIS', 'Brothers and Sisters', 'The Shield', 'Bones', 'Cold Case', 'Burn Notice', and most recently, recurring on NBC's new hit series, 'The Event'.
---
Laura Cerón – Carmelita
Mexico City-born Laura Cerón was 10 yrs. old when her family moved to this Country. She grew up in Elgin, Illinois a City outside Chicago, there she learned how to speak English and saw snow for the first time.
In 1985 Laura joined the newly founded Latino Chicago Theatre Co. There she was able to start in many productions including 'Dona Sol and her trained Dog', 'Each day Dies with Sleep', 'Pedro Paramo' and many more. While performing on stage, Laura also had the opportunity do TV work and film, as much as the city of Chicago could provide.
For 13 formative years LCTC and the City of Chicago gave Laura the experience she felt she needed to move to Los Angeles to be part of the bigger picture and expand her experience.
In 1994, 3 months after moving to Hollywood, Laura landed the role of Nurse Marquez on the acclaimed TV series ER, and she was able to be part of their incredible 15 year run. During those years she also managed to work on several TV shows and Film. Her latest work includes the film 'The Perfect Family' which premiered at the Tribeca Film Festival and 'California Winters' which will be released soon.
---
Hansford Rowe – Bishop Donnelly
HANSFORD ROWE has been lucky all his life. He was born one of five children to a wonderful mother and a veterinarian father in Richmond, VA. He left high school to join the Navy during WWII and was lucky to have the G. I. Bill put him thru six years of college studying drama. After a few fortunate years starring in roles in community theatre he tried his luck in New York. Good fortune brought him roles off-off Broadway, off Broadway and then twelve roles on Broadway including Nuts (Drama Desk nomination) and Porgy and Bess for the Houston Grand Opera and later for The Metropolitan Opera. His luck has held out through twenty movies including THREE DAYS OF THE CONDOR, BABY BOOM and parts for directors Sam Peckinpah, Costa Gavras, Brian De Palma and Roger Donaldson. Luck has brought him to an age somewhere between eighty and death as Angela Lansbury said when they were in a production of AUNTIE MAME together. And how about luck on TV in such shows as "Six Feet Under," "Touched by an Angel," "The Drew Carey Show," "Perry Mason," "Coach," "The Bob Newhart Show," and as Larry David's biological father in "Curb Your Enthusiasm." But mostly he's been lucky to finally find the right woman, Mira, to share his travels across country in their RV. His luck has even found him ordained as a Minister to perform a marriage ceremony for his wife's nephew in New Orleans. And, would you believe, his unions SAG, EQUITY and AFTRA now support him in his later years. Is that lucky, or what?
---
June Squibb – Mrs. Punch
Miss Squibb began her career at The Cleveland Playhouse in the 1950's and just finished a production of Horton Foote's Dividing the Estate as Stella, the matriarch, at The Dallas Theater Center. She has appeared on Broadway in the original (Ethel Merman) production of Gypsy as the stripper Electra. Other Broadway performances were in Happy Time, Gorey Stories and Sacrilege. She played Dulcie in the American cast production of The Boyfriend, which ran off-Broadway in New York and in Los Angeles at The Ivar Theatre. Miss Squibb's regional theatre appearances include The Cleveland Playhouse, Center Stage in Baltimore, the Kennedy Center in Washington D.C., The Wilma in Philadelphia, Buffalo's Studio Arena and The O'Neill Playwright's Conference. On television, Miss Squibb had recurring roles on "The Ghost Whisperer" as Melinda's grandmother, in "Judging Amy" as Amy's court assistant, on the "Bill Engvall Show" as Bill Engvall's mother and on "The Young and Restless" as Pearl. Guest star appearances include "The Middle," "Cold Case," "Two and a Half Men," "Curb Your Enthusiasm," "House," "Just Shoot Me," "ER," "Law and Order," "The Bernie Mac Show," "7th Heaven," as well as two Hallmark movies. On film, she appeared as Helen Schmidt opposite Jack Nicholson in ABOUT SCHMIDT and as Ray Ramono's sidekick Irma in WELCOME TO MOOSEPORT. She was Mrs. Hunsacker in SCENT OF A WOMAN and Cousin Gretchen in IN AND OUT. Other films include ALICE, MEET JOE BLACK, AGE OF INNOCENCE, FAR FROM HEAVEN, and ONE PART SUGAR. Miss Squibb has two films in post-production, THE BIG YEAR with Steve Martin and ATLAS SHRUGGED.
---
Bess Meisler – Greta Russert
Bess Meisler began her theatrical career at the age of eight at the Federation Settlement House in her native New York City. She has appeared on and offBroadway, in National Companies, films and television. She toured the country as Golde in Fiddler On The Roof, appeared in Nine Armenians and James Joyce's TheDead at the Ahmanson Theatre in Los Angeles, and with Martyn Green in Mr. Gilbert, Mr. Sullivan and Mr. Green. On film Bess was Yia Yia, the grandmother in MY BIG FAT GREEK WEDDING, the Gypsy in DADDY CARE, Mildred in XANADU, and Rachel in the Spanish language film, EL REGALO DE PAQUITO. On television sherecurred on the original "Beverly Hills 90210". "Becker", "Malcolm in the Middle", "Flying Blind," "Eagleheart" and the MOW, "Kiss At Midnight" are among herother television appearances.
---
Mandy June Turpin – Susan O'Connor
Mandy June Turpin has worked exclusively in the entertainment industry for the past 15 years, holding positions in casting, producing, acting and production.
Her film credits include Powder Blue starring Forrest Whitaker, Atlas Shrugged Part 1 and The Perfect Family starring Kathleen Turner. Her TV credits include the HBO series Luck, NCIS, Grey's Anatomy, The Closer, Burn Notice, Bones, House M.D, Lost, 24, Justified, Prime Suspect, Without A Trace, Castle, Hot In Cleveland, Lie to Me, In Plain Sight and Criminal Minds to name a few. Mandy holds a degree from UCLA in Theatre, Film & Television.
---
Rebecca Wackler -  Sister Joan
Rebecca Wackler has performed at the Kennedy Center, the Philadelphia Drama Guild, the Actor's Theatre of Louisville, The Dublin Theatre Festival, The Spoleto Festival, Off-Broadway at the Astor Place Theatre in New York, Theatre Banshee in Los Angeles, Southern Theater Conspiracy in Atlanta (which she co-founded) and many more. Some of her film and television credits include Primary Colors, directed by Mike Nichols, The Long Walk Home, Roswell, Step by Step, ER, I'll Fly Away and The Perfect Family.
Among her many writing credits, Wackler co-authored Tent Meeting (published by Dramatists Play Service), Nicholas DeBeaubien's Hunchback of Notre Dame, Isle of Dogs, (published by Samuel French, Inc.,) with Levi Lee and Larry Larson, and The Gospel of Mary, with Ron Short of Roadside Theatre.
Some of her directing credits include Tent Meeting at Theatre Banshee in Los Angeles, in Chicago, Some Things You Need to Know Before the World Ends (A Final Evening with the Illuminate), in Hiawasee, Georgia The Reach of Song, in Anniston, Alabama Steel Magnolias and El Grande Coca Cola, in Atlanta Hamlet the Musical, Phantom of the Opry, and We Won't Pay, We Won't Pay and for the Roadside Theatre in Whitesburg, Kentucky Apples in the Fall.
Rebecca was a recipient of the Theatre Critics Atlanta Award for Excellence and Achievement in Atlanta's
Theatre Community and a National Endowment for the Arts Individual Artist Grant. Her play Tent Meeting was selected to be part of two anthologies, New Plays USA 4, and By Southern Playwrights.
---
Kristen Dalton – Theresa Hennessy
Kristen Dalton is an actress and producer who currently resides in Beverly Hills. Her studies include H.B. Studio in New York, Comedy Theatre Improv & Shakespeare, and many years studying with Larry Moss in Los Angeles. Kristen starred opposite Jack Nicholson in Martin Scorcese's academy award winning movie THE DEPARTED, and recently finished filming THE PERFECT FAMILY where she plays Jason Ritter's love interest. Also just completed, in the role of Agent Lani Morgan, is the movie FINDING HOPE, and currently Kristen is in post production on A DANGEROUS PLACE and LAST DAY ON EARTH, while in the midst of producing and starring in her newest project set to start filming mid-June 2011.
---
Gregory Zaragoza – Lou Reyes
Gregory Zaragoza was the lead "Gil Lujan" in the newly released film Jordan and was the "Croupier" in the final season of The Sopranos, the "Abenaki Chief" in The Last of the Mohicans, "Tanaghrisson" in The War That Made America, "John Coin" in Fishes Outta Water, "Scar" in the mini-series North & South, Heaven & Hell, "Vincent Conrad" in The Jury as well as many other Television roles. On Broadway, he originated the role of "Chief Sitting Bull" in the revival of Annie Get Your Gun with Bernadette Peters and Tom Wopat and was the "Apparition" in Macbeth with Christopher Plummer and Glenda Jackson. Off- Broadway, he performed the one man show, Sacred Journey, by Matt Witten, portraying "Indian John" in addition to a multitude of supporting characters. He has performed in many other Off-Broadway productions as well as Regional Theaters throughout the United States.
He is an attorney licensed in New York and California, the proud father of 3 incredibly talented performing arts children and devoted husband to his wife of 24 years, Shiuga, a Business Professor with the City University of New York.
---
Joe Holt – Nurse
Joe Holt recently relocated to Los Angeles from New York after fulfilling his obligation of working the "Law and Order" circuit, and has enjoyed Guest-Star spots on such shows as "Supernatural," "Brothers and Sisters," "Grey's Anatomy," "Prison Break," "Monk," and "Close to Home," as well as a lead role in "Lake Placid II." He can be seen playing an attorney opposite Idris Elba in the psychological thriller LEGACY, and also had significant roles in the upcoming films FROM THE HEAD, SON OF MOURNING and BLOOD SHOT. He recently completed THE BULLET CATCHER, where he starred as an Iraqi vet dealing with symptoms of ptsd, and troubled by the horrors of war.
---